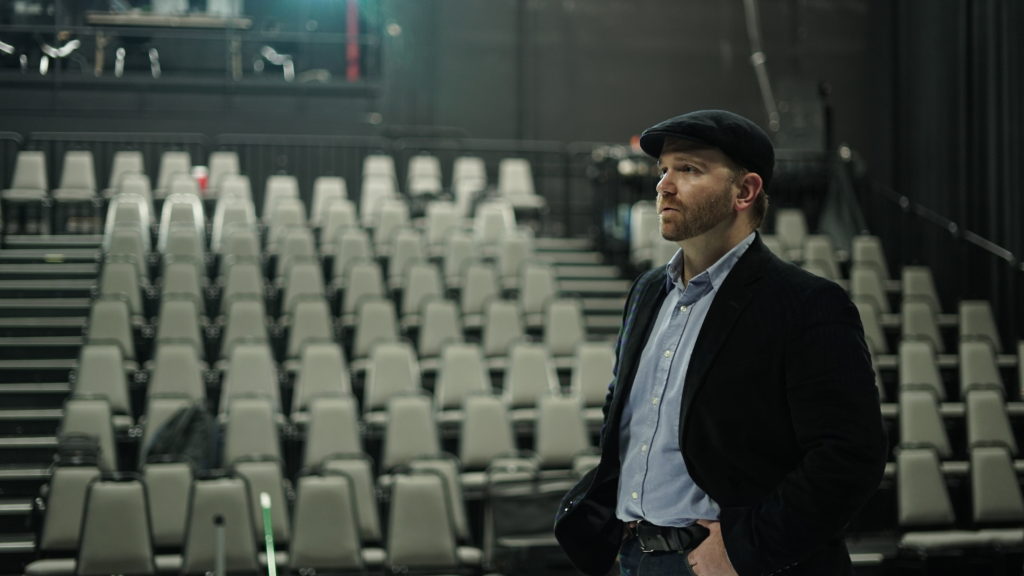 Robert A. K. Gonyo is a theatre director, actor, voiceover artist, podcaster, musician, and tour-guide residing in Woodside, Queens, NY. Born and raised in upstate New York, Robert attended Siena College, where he studied Political Science and Creative Arts with a focus in theatre and music. After several years working in campaign politics, he attended the Master's program in Performance Studies at Tisch School of the Arts, New York University. Upon the completion of his formal studies, he co-founded Co-Op Theatre East (COTE) in 2008 with the mission to create new, innovative, socially-minded works of theatre.
While versed and practiced in all areas of stagecraft, Robert's focus in the theatre remains on directing. His credits include Frank McGuinness's Carthaginians for the Stella Adler Studio of Acting; Million Dollar Quartet for Riverside Center for the Performing Arts in Fredericksburg, VA; the ensemble-created Season to Taste and David Myers's Muzungu, both with COTE; live performances of Samuel Beckett's radio play Cascando and Vinko Globokar's Un jour comme un autre, both featuring music ensemble thingNY; Craig Abernethy's short plays Absolutes and Do/Don't Do; Susie Kahlich's Hitchhikers May Be Escaping Convicts and Galen Peoples's Doin' Down le Deadboys with End Times Productions; the ensemble-derived Mission with Mixed Phoenix Theatre Group; as well as multiple works in Amios Theatre Company's Shotz series.
An aficionado of radio plays, Robert is the host (in the guise of "Professor Mortimer," his tour-guide alter-ego with Haunted Manhattan) and producer of Apparitions, a podcast of new radio horror; has directed several pieces in Distilled Theatre Company's DTC Radio series; and, produced Co-Op Theatre East's long-running Radio COTE series of new plays on social themes. He also wrote & directed the radio plays Conference, which puts the audience on a campaign strategy conference call, and A New Cassette, featured on the Geste podcast. Also on Geste, he is the director of Lizzie Vieh's Monument Valley, and the live foley artist/musician for the A Knock on the Door series of improvised radio dramas.
He is also the creator of several works with COTE, such as his one-act Urinal Play, an allegory set in a corporate men's room with an omniscient, disappearing boss and an overflowing toilet; O Brave New World, a site-specific, improvisation-based performance about technology and theatre set in the midst of a real house-party; and numerous murder-mystery dinner-theatre performances, created as charity fundraisers.
As a performer, Robert has acted roles in classics and brand new plays, from drama to musicals to performance art. Favorite roles include Demetrius in Shakespeare's A Midsummer Night's Dream, The Chairman in Rupert Holmes's Drood, Rev. Kimball and others in the Drama-Desk-nominated The Threepenny Opera with Marvell Repertory Theatre, John Ivan in Myrton Running Wolf's Carlisle: A Different Three Sisters, and sharing the stage with best friend & the greatest Buddy Holly portrayer in the world, Todd Meredith, on trumpet and mandolin in Buddy: The Buddy Holly Story.
His voiceover work can be heard on several audiobooks, the Tracing Xenakis and ICEcast podcasts from the International Contemporary Ensemble, which he also produced, as well as his own off-off-Broadway podcast, Go See a Show! Also a guitarist, trumpeter, vocalist, songwriter, and amateur mandolin player, Robert performs music with Todd Meredith as the duo Acoustic Pic Slide, as well as with other friends around New York.
As a tour guide, he can be found primarily in Greenwich Village, leading ghost tours around Washington Square Park as the aforementioned "Professor Mortimer" with Haunted Manhattan, leading pub crawls with Literary Pub Crawl, and food tours with Sidewalks of New York.
Robert is the Director of Election Engagement for the League of Independent Theater, the advocacy group working to promote the interests of indie theatre artists in NYC. He has been a teaching artist, sharing Theatre of the Oppressed techniques with middle-schoolers, a company member with End Times Productions, a member of the Lincoln Center Theater Directors Lab, and a member of The Best Thing Ever, a directors collective.
Interviews
Given my work in & affinity for podcasts, I've had the opportunity to chat about my work a few times on various podcasts—take a listen.
BroadwayRadio, July 14, 2015—Host James Marino and I discuss the origins of Go See a Show!, the theatre ecosystem, podcasting, and more.
Nerd Roots, February 27, 2015—Hosts Kia Sayyadi & Ben Fullon and I discuss my nerd roots—love of Lovecraft, the Batman, podcasts, music, theatre, gaming, and whatnot.